SATELLITE RELATED SOFTWARE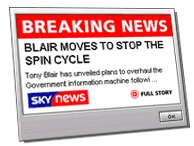 Sky News Desktop Alerts
(1.09Mb, freeware) Stay in touch with the latest news with this free PC news alert service - which flashes up on your desktop when there's a breaking news story to report.
Simply save the file to your computer and then double-click on the icon to install it.
AcuSat (262kb, demo version) calculates the azimuths and elevations for aligning satellite dishes with any communciations satellite. It includes an extensive database of worldwide satellites and cities. For more details, see the AcuSat Web site.
LogSat Professional (5.4Mb demo) Track satellites around the earth.
TrakSat (601kb, shareware) Track satellites with ease using this multifeatured program.
SatCalc (1.8Mb, shareware) Determine the appropriate location for your DSS satellite dish.